INV100 Inline Vent – 3 in 1 Tile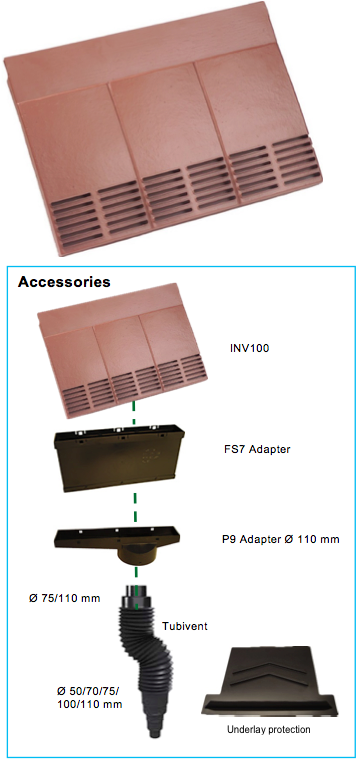 Application
The INV100 vent is camouflaged to look like the original roofing material, which makes it almost invisible and particularly suitable for flat roofing profiles. It is suitable as ventilation outlet from living quarters like kitchen, bathroom and laundry room.
Please refer to national standards.
For pitched roofs min. 40°
10,000 mm2 ventilation area
Can be manufactured for shingle profiles only
Design
The INV100 vent is designed with a built in water stop concealed under the roof, which diverts rainwater safely back onto the roof surface. A protective grille keeps out insects and drifting snow. Easily installed with the rest of the roof the vent presents a very discreet ventilation solution.
The FS7 and P9 adapters allow for connection of Tubivent.
Colour and Surface
Special coloured, glossy or structured with sand or granules the vents can be supplied with a 100% colour and surface match individually adjusted to each shingle type.
Materials
Vent and adapters are manufactured from HIPS (High Impact Polystyrene).
Tubivent is manufactured from PP (PolyPropylene).
Handling
Keep in original packaging during transport.
Do not wrap and expose to heavy load during transport.
Remove plastic bag before placing in sun.
Would you like to talk to us about your requirements?
Contact Us