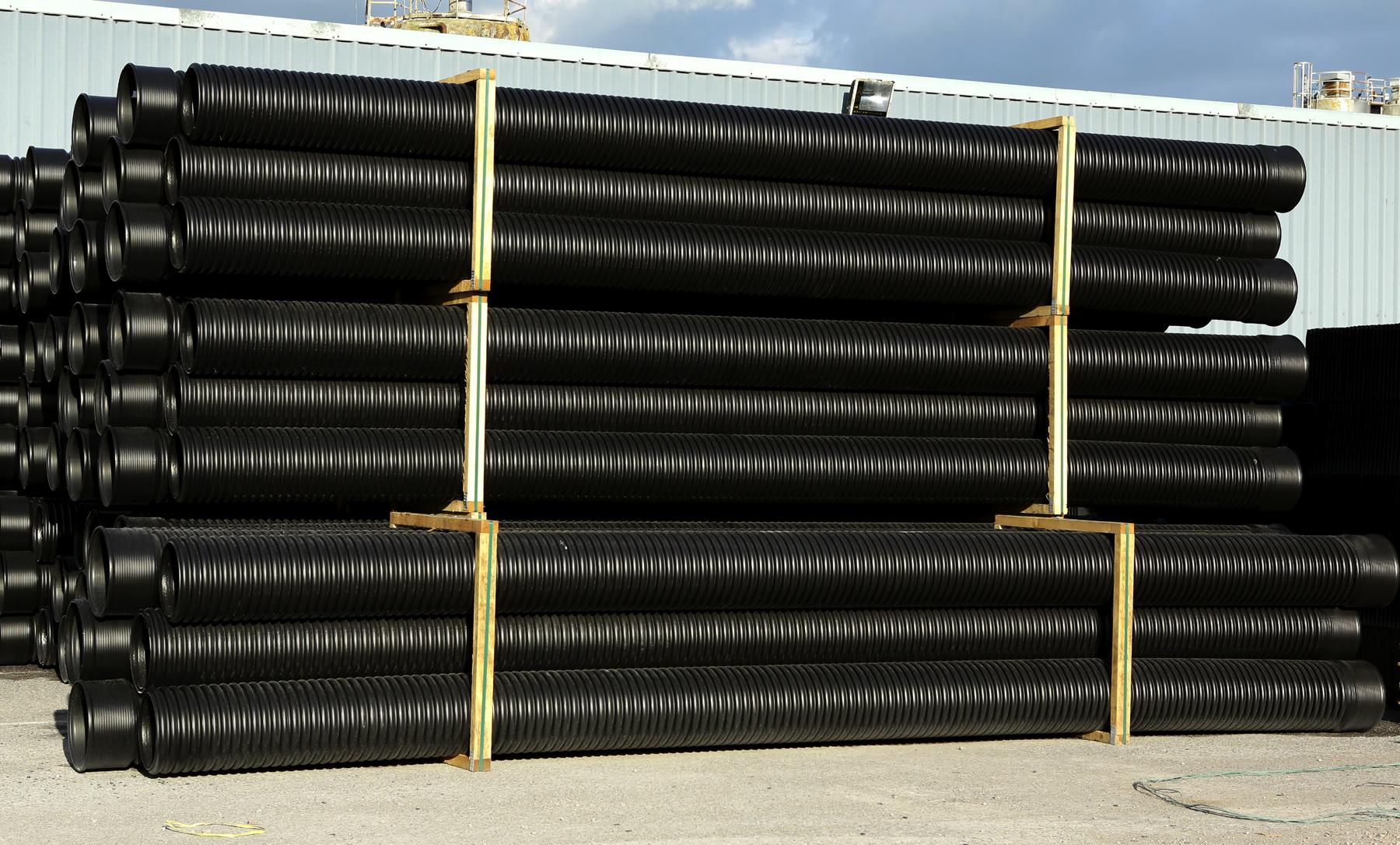 Recommendations on Pressure Testing
Condron Concrete Works Twinwall Pipes may be tested using conventional air or water testing.
Pressure Testing
All pipe runs should be Air Pressure Tested in accordance with EN: 1610 at minimum or in accordance with the project specific requirements.
NOTE: All testing should be carried out periodically and prior to backfilling
Air Test Method
Block the ends of the pipe, including any branches, using sealed, expanding stoppers.
Fill a U-tube manometer with water to the correct level, ensuring that there are no trapped air bubbles in the water.
Connect the manometer to the appropriate port of one of the stoppers.
Increase the pressure in the pipe until a pressure of 100mm of water (0.01 Bar) is reached.
Allow the pressure to stabilise for several minutes, increasing the pressure to 100mm head of water if it drops. Record any change in pressure over a 5 minute period. Without further pumping it should not drop below 75mm head of water.
Air test problems are generally due to faulty equipment or test procedures and the following advice may be of assistance.
Always install pipes in accordance with Condron Concrete Works Twinwall recommendations and the applicable site specific specification.
Check that the test equipment does not leak and is in proper working order by testing a short length of pipe submerged in a water bath.
Ensure that the test stoppers, tubes and pump are in good condition and that all seals are correctly fitted.
Ensure that the pipe bores are free from dirt and debris that could affect sealing of the test bungs.
Ensure that the test stoppers are placed tightly, squarely and in the pipe barrel, not the fittings.
Ensure that all openings are properly sealed, including those to be buried underground, prior to testing and backfilling (e.g. gulley and lateral pipe connections).
The air test is more sensitive than water tests and failure is not conclusive. The air test is very sensitive to temperature changes and must not be performed unless the pipe temperature is stable.
Failures due to testing immediately after backfilling a pipe that has previously been heated in the sun are common. A 1ºC temperature change in the air inside the pipe will result in a pressure change sufficient for the test to fail.
Water Test Method
Appropriate stoppers should be fitted, blocking the pipe ends and any junctions.
A standpipe or flexible pipe should be fitted at the top end of the pipeline, a maximum of 1.2 metres above the crown at the high end and 6 metres at the low end of the pipeline.
The pipe should be filled with water and allowed to stabilise for 2 hours, topping it up as required.
The loss of water from the pipeline should be determined by measuring the quantity of water added to the pipeline to maintain the level during the 30 minute test period.
The rate of water loss should not exceed 1 litre per hour per linear metre of drain per metre of nominal pipe diameter.
Maximum Permissible Water Losses During 30 Minute Water Test
Bedding requirements
Installation of the Condron Concrete Twinwall Road Drainage system is typically carried out in accordance with the NRA Manual of Contract Documents for Road Works MCDRW (see Figure 4).
Granular pipe bed and surround material, consisting of natural and/or recycled coarse aggregate or recycled concrete aggregate, should have specification as per Table 6 (in accordance with clause 503.3 of the MCDRW).
Standard details
Granular pipe bed and surround material, consisting of natural and/or recycled coarse aggregate or recycled concrete aggregate, should have the following specification (in accordance with clause 503.3 MCDRW).
For pipes on beds shown on Drawing Number RCD/500/2 in MCDRW BS EN 13242:2002+A1:2007, Coarse aggregate (clause 4.3.2)
Category for general grading requirements – GC80-20
Category for maximum values of fines content

Gravel – f1.5
Crushed rock, recycled aggregate – f4

A resistance to fragmentation in Category LA50 in accordance with BS EN 13242:2002+A1:2007, clause 5.2 and Table 9;
A water-soluble sulphate content of less than 1.9 grams of sulphate (as SO3) per litre when tested in accordance with BS EN 1744-1, clause 10;
All other requirements in Category NR.