Inlet/outlet opes can vary to suit 225mm, 300mm and 375mm Condron Concrete S&S Pipes, Ogee Pipes or (proprietary) Twin Wall and P.V.C pipes.
Base Configurations can incorporate a third inlet/outlet ope and are available left or right handed.
Reinforced concrete base.
Extendable depths and standard manhole covers available.
Chamber Catch-pits can be supplied in 900mm or 1200mm Ø upon request.
Quick installation.
Catch-pit sections are manufactured and tested in accordance with I.S. 420 and I.S. EN 1917:2004
Steps available if required.
National Roads Authority (NRA) approved.
Catch Pits must be handled using a specialist grab and never lifted using slings through pipe opes or step rings.
"All Catchpit Units MUST be lifted with appropriate and Certified 3 way Lifting Chains and Clamps"
"Units must not be slung through opes"
S.W.L : Catchpit 900mm = 1.1T
S.W.L : Catchpit 900mm = 1.4T
S.W.L : Catchpit 900mm = 1.8T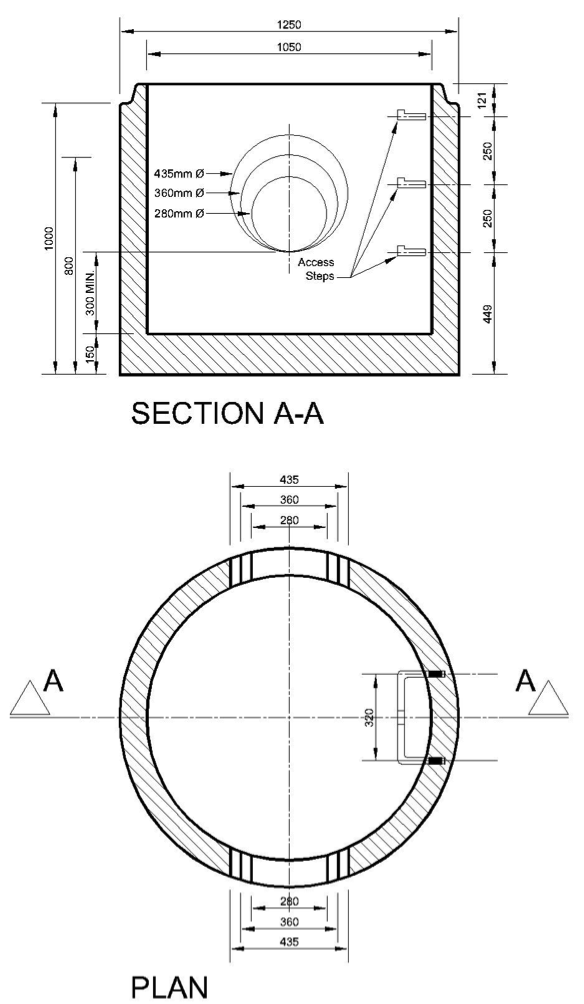 Would you like to talk to us about your requirements?
Contact Us